High Ledge
Directions
High Ledge is located in Connecticut about 7 miles from the Rhode Island border not far from Lantern Hill. From Rhode Island take Interstate 95 south to exit 92 (North Stonington). On the exit stay straight for about a mile until you hit a traffic light. At the light take a right on to Route 2 west. Follow this for about five miles. Just before a light where Route 201 splits off to the right is Ryder Road. Take a right on Ryder Road. Ryder Road ends at Wyassup Road (1.5 miles). (Follow the small brown boat launch signs.) Take a left on Wyassup Road. Take a left on Wyassup Lake Road (2.1 miles). Follow this to the boat launch (0.8 miles). About fifty yards after the boat launch you will see a road/trail on the left with a metal gate on it. (Park on the side of the road here but do not block the fire road.) This is the Narragansett Trail. Follow this road/trail. When the road bends to the left follow the blue dot trail that leads to the right. Follow this for about 1/2 mile, past a gas line cut until you come to a ledge. The trail goes over the top of High Ledge then bends right and comes back down the ledge to a swampy valley. Before the trail descends you can take the climbers trail off to the left that goes to the top of the cliff to set-up the top-ropes.
Protection
There are ample trees fairly close to the edge of the cliff for top rope anchors. There are a few crack systems that look like they would provide practice leading but the rock quality here is generally not good. The roof on the main cliff has been led but the rock is chossy and the gear placements suspect. There is one sport route here but it has probably been chopped by now.

Access
This is on state land in the Pachaug State Forest.

Routes
The cliff ranges from 30 to 60 feet in height. The rock offers fairly clean, juggy, vertical to overhanging routes. There is lots of loose rock so beware. Most of the better quality and steeper routes are on the right side of the cliff (facing it). The tallest face has a vertical crack that leads to a roof. It can be climbed in the middle at about 5.8+ or the crux roof can be avoided by going to the left at about 5.6. Just to the right of this is an arete that goes at about 5.5. Furthest to the right is an overhanging cliff with the best quality rock. It is where Tough Schist a frequently done 5.10a is located. Some harder routes can be established here.

Red - 5.8+ (Green 5.6 Variation). Yellow - 5.5

Tough Schist, 5.10 (yellow variation)

Photos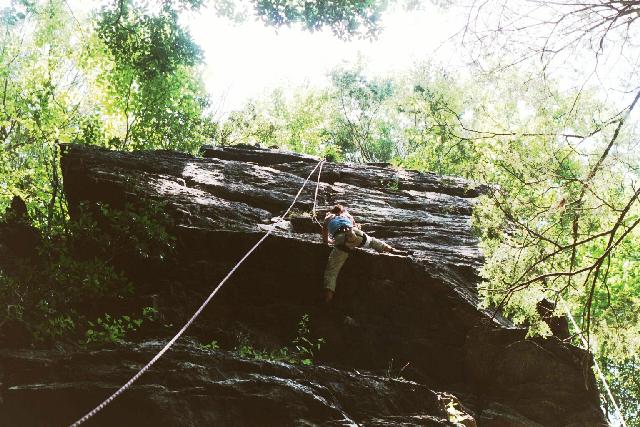 5.8+ Roof

Kelly on Tough Schist
Known Route History
Tough Schist, 5.10, FA (lead) Brian Phillips 2014, 7 bolts to anchor