Kieners Route, East Face, Longs Peak
July 10-11, 1996
Click photo to enlarge

My 11-years-old son Mark and I left the trailhead parking lot at 12:00 noon on a perfectly cloudless day. We planned on a slow hike to help get acclimatized. The trail is easy and well-trodden from all the hikers going up the Keyhole trail.
Along the way we played leap-frog with a group of climbers going up to do the Cables Route on the north face (our descent route). One of the climbers seemed really knowledgeable and gave me a lot of good information on Kieners Route. He turned out to be Mike Donahue the owner of the Colorado Mountain School (CMS) and was guiding a couple of climbers up the Cables Route.
Click photo to enlarge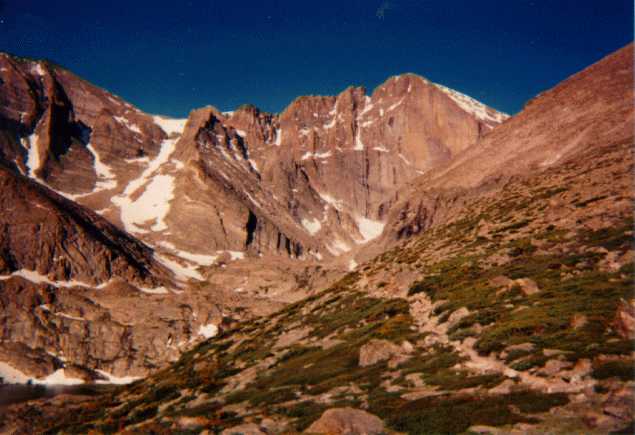 The trip up to Chasm Lake is supposed to take 4.5 hours but I planned on doing it in six. We got to Chasm Lake at 6:00 p.m. Right on schedule. It started to hail, but of course, as soon as fished our parkas out of the packs it stopped. The trail ends at Chasm Lake and hiking across the talus on the north side of Chasm Lake was "interesting." We got cliffed/bouldered out a couple of times requiring scrambling across huge boulders with heavy packs. We even walked across the ice at a few points which was clearly thick enough. You could see the ice reaching to the bottom of the lake in the beautiful aquamarine water. We arrived at the bivy sites next to the Mill's Glacier at 7:00 p.m. At this point we were at a little over 12,000 feet and I had a splitting headache despite the effort to acclimatize by climbing on Lumpy Ridge and McGregor Mountain for the previous four days.
Click photo to enlarge



There are three or four bivy caves at the west end of the lake in the moraine just before the Mills glacier. The largest one is under a boulder the size of a garage and is easy to spot. Three climbers from Texas were occupying it and offered to share it if we couldn't find another cave up higher. According to the guide book there are more up diagonally right from there and we found a cave with a nice flat rock-less floor and rocks piled up in front to protect from wind. We ate a dinner of bagels and granola. Right after dinner Mark and I went out to the glacier for some self-arrest practice with the ice axes. We took pictures of the east face and watched climbers bivouacked on Broadway just below the Diamond.
Click photo to enlarge


The Diamond is the vertical to slightly overhanging 1,000 foot face that makes up the most of upper half of the east face. It is legendary among climbers. At 8:00 p.m. we curled up and went to sleep. Despite the altitude, a howling wind, and freezing temperature, we slept well.





Click photo to enlarge

The next morning we got up at 5:00 a.m. and started climbing at 6:00. Lambs Slide is a 1,000 foot 45 degree snow couloir. We started up it thrusting our ice axes in with every step for protection and side-stepping with our crampons. We went up like this un-roped for about 300 feet when I looked down and decided it would be a good idea to rope up. We roped up and I established a running belay with rock protection on the wall. Sometimes it was hard to get to the wall because when the rock heats up from the summer sun it melts the snow at the base of the rock forming a moat anywhere from a foot to five feet wide. We got into a methodical rhythm of climbing the couloir. Mark's technique involved using his hands so his gloves soon got wet and his fingers frozen. I grumbled but swapped gloves with him; as fathers are supposed to do. I noticed that there were rocks buried a foot or more in the snow. Some the size of basketballs. This really worried me and I hugged the cliff as closely as the moat would allow. Falling rocks generally bounce out away from the cliff. I just wanted to get up the couloir as fast as possible before one of us got beaned by a rock. We made it up Lambs in three hours. Good time. I had planned for this to be a decision point. If it was early enough, and the weather was good, and we were feeling well, we would go for the summit. If not we would come down. After this point it was decidedly more difficult to get down.
We were now at a ledge ironically called Broadway. Ironic because it may be as much as 20 feet wide at some points but it is often tiny enough that your heel is dangling over the edge. At one point you step around a block, clip a piton someone thoughtfully left behind, and look down 1000 feet to the Mills Glacier. We traversed the 1,000 feet of Broadway to the Notch Couloir. Another decision point.
Click photo to enlarge

The most technical part of the climb, the Kieners Chimneys, starts here. If we continue retreat is not a viable option. The quickest way off would be to continue to go up and get to the north face. It was 11:00 a.m. and we were only about an hour behind the schedule I had worked out in my head. The guide book recomends that you climb up the ice of the Notch Couloir for about 30 feet and get on the rock there to traverse back toward the east. We couldn't do that because the moat was four feet wide on this side of the wall and we would have to either jump across it or climb down into the crevasse. Neither option was appealing so I went straight up from the belay. It is not too technically difficult (5.3) but in clunky mountaineering boots, parka, a heavy pack, and exposure of about 1,500 feet, it is hard enough to make it interesting leading. I had studied the route in the guide books and maps until I had it memorized. I found the Kieners Chimneys with no problems. However, the guide book said there should be four pitches in this section. On my sixth pitch I started to get worried that I was seriously off route. It was also getting late. I didn't want to hurry Mark but I wanted to move faster. We were now three hours behind schedule.
At the top of the pitch I found the Upper Kieners gully. This is 800 vertical feet of scree and is rated as a fourth class scramble. We stayed roped together because it is the kind of place where if you tripped over your shoelace you could bounce off the Diamond. This scree slope went on forever and the altitude was having a serious effect on us now. We were at 14,000 feet and sounded like a couple of asthmatics wheezing with every breath.
There was one final problem, climbing the Kiener "steps" and traversing across the top of the Diamond to get over to the north face. Mike, the CMS guide I had the fortune of meeting on the way up, told me to look for black bands of rock and follow them up. They were an easy landmark to find and we did one final pitch across the top of the Diamond with some great 2,000 foot exposure. We were now 250 feet below the summit on the north face. Though the climbing was just a scramble across boulders it was the exhausting at over 14,000 feet.
Click photo to enlarge

We made the summit at 6:00 p.m. We were six hours behind schedule. No way we could make it down before dark. I looked around for anvil clouds. At least the weather was cooperating. We quickly signed the summit register, took some pictures, and started down the north face.

Click photo to enlarge

The Cables Route down the north face is, according to the guide book, an easy forth class scramble until the bottom where you do two or three rappels and some easy down climbing. I found the trail okay but it periodically disappeared due to snow fields that still hadn't melted. We had brought a liter of water each figuring that I could get some melt water from the snow fields on the north face. Mistake. I could hear the water running underneath the snow but where it emerged it ran unbounded and uncatchable over smooth slabs of rock. We had to be satisfied with sucking on snow. We made it to a snow slope that the trail was obviously underneath. It wasn't difficult to traverse it but if one of us slipped you could slide right off the edge. We set up a belay which took more time. The sun was going down. I was greatly relieved when I finally spotted a cairn that marked the first rappel bolt down the Cables route. At least we would be done with the technical part before dark. We quickly set up a rappel and did three single rope rappels to the snow slopes at Chasm View. We were down! We did the last rap at 8:00 p.m. A 14-hour climb! We were sapped from the climb, the altitude, and the thirst.
We then started hiking out across the Boulder Field. We headed down toward the tiny dots that were tents in the Boulder Field camp site. When we got close Mike, the CMS guide, came walking over and shook our hands. They watched us rapping off the north face. He treated us to some hot Jell-O (actually quite good). We should have hiked over the Camel and downclimbed the Camel gully down Mt. Lady Washington to save some distance and to pick up a pack. Mike Donahue offered to hike over to the Camel with me and point out the way which I think was really generous considering I wasn't a paying client. I was not looking forward to the 1,000 foot scramble at night and then negotiating around Chasm Lake again. I planned to hike up after a days rest to retrieve the pack. It was now completely dark. We turned on our headlamps and started hiking out via the Boulder Field trail.
We would hike awhile and rest awhile. The sky alternated from jet black with flashes of lightning to crystal clear with a multitude of stars that can only be seen this far away from civilization's lights. Mark saw his first shooting star. The hike was painfully long. We would stop to rest and Mark would fall asleep. I would have to shake him to wake him. I would have just slept there except that I only had a bivy permit for one night. In the windshield of my car was the bivy permit with dates on it. The Park Service requires it for bivies on technical climbs and if they saw that we hadn't returned I was afraid that they would launch a rescue effort and WORSE call my wife and tell her we were missing. So we trudged on. I can empathize with the prisoners of war in the Batan death march during World War II. We got back to the car at 2:00 am. and back to our motel at 2:30. A 20-hour day!
In retrospect the Meeker/Longs Peak cirque is the most beautiful, awe-inspiring place I've ever climbed. It was worth every minute and I would highly recommend it.