Other Lesser Areas/Closed Areas/Potential Areas
Blackstone Gorge, North Smithfield, RI
From Rhode Island points south take Rt 146 north to Rt 146A. Take a right on Great Steet and left on St Paul Street. This will bring you to Main Street in Blackstone, MA. Take a left onto Rt 122 (Main Street) and another left on County Street. County Street dead-ends at a parking area on the Blackstone River. Follow the trail to the left until you find the cliffs. The second cliff is the climbable one. If the water is high (Spring) you probably won't be able to get to the base of the cliff without swimming. There is one climbable route here. The route goes up the center of the cliff and goes at 5.8ish. If you are really bored and live nearby than this may be a fun way to spend a half-hour. The access is through Blackstone, MA but the cliff is actually just over the line in RI. It is somewhat loose shale like rock and about 30 feet in height. There is a bit of lichen on the rock. Photo below.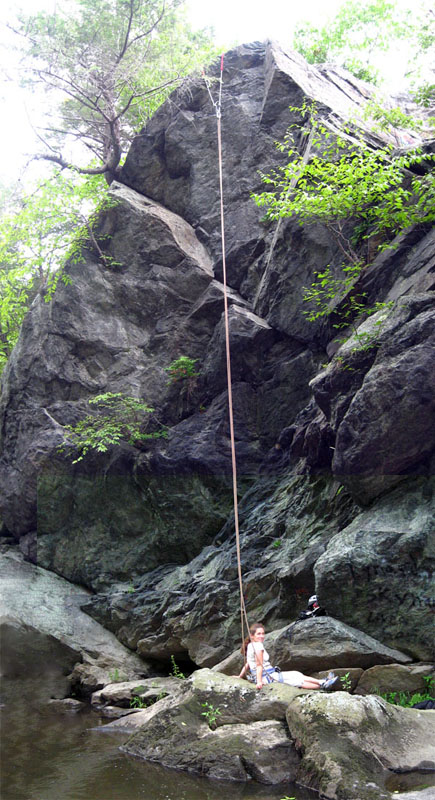 Catamint Quarry, Cumberland, RI
This small crag is located in Diamond Hill State Park on the west side of RT 114. Access is tricky to find. Access is by a road that looks like a driveway south of the Abbot Valley Vet Clinic. Park at the Diamond Hill town park parking lot on the east side of Diamond Hill Road (114) and walk across the street. Walk down the side road to a chain across a dirt road and follow the dirt road past a house. You'll feel as though you're trespassing and the chain across the trail's start, apparently to discourage vehicles, isn't exactly welcoming.but this is state land and a public right-of-way, not private. This was confirmed by the RI DEM. They plan on eventually building a parking area here. The cliff is about 60 feet long and 25 feet high and is a great place to bring kids as there are abundant holds.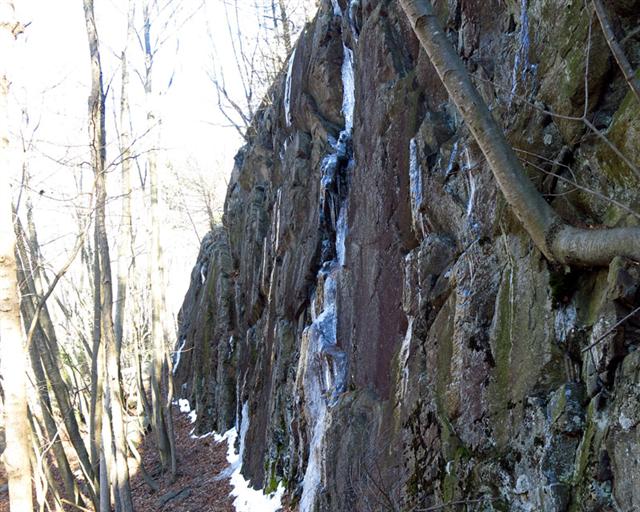 Diamond Hill, Cumberland, RI
Closed to Climbing
Diamond Hill was once a state park and a state run ski area on the east side of RT 114. It was sold to the town of Cumberland for $1 by the state and is no longer a state park. Due to perceived liability issues the town bans any recreational use of the land, including sledding, skiing, and climbing. The parking area and the approach to the cliff is not posted with no climbing signs but the main entrance to the former state park is. There is a house now sitting on top of the cliff. The cliffs at Diamond Hill average 40 to 60 feet in height and it was the best climbing area in the state. It has a long history of climbing. An out-of-print guidebook entitled A Climber's Guide to DIAMOND HILL Cumberland, R.I. was written by Ron Rocha and Allan Li in 1980 and is republished here with the permission of the author. This is not to be confused with Catamint Quarry (above) which is on what is now Diamond Hill State Park on the west side of RT 114.
Dinosaur Rock, Hopkinton, RI
Closed to Climbing
I was informed by the Rhode Island Boy Scouts (9/25/03) that Dinosaur Rock is on their land and is closed to climbing.
Dinosaur rock is exactly that...a large rock. It does not have an extensive amount of routes. The rock is about 20-25 feet in height. The rock is granite mostly vertical and with the exception of some horizontal cracks it is featureless making for some hard routes. There are no known established routes on the cliff.
Ell and Long Pond Natural Area, Hopkinton, RI
Closed to Climbing
There are a number of cliffs in this wildlife refuge. It is heavily posted with "No Rock Climbing" signs. Getting permission to climb is probably impossible and for that reason I do not include directions on how to get there.
Long Pond near Rockville has some excellent climbing. Unfortunately, the nature conservancy/audubon society prohibited climbing when they bought the land. The obvious rock by the lake is good, but better cliffs are found on the opposite side, in the woods. The best route, Vertical Offenders, is about 5.10b, 45 feet long, vertical, and has a pin and bolt on it. It was toproped in the late 70's (legally) and lead in the 80's by a couple of trespassers. Another good route is Smegma delight, 5.9, an overhanging layback with similar tr/lead history.
Ward Smith (reformed Rhode Islander)
Fort Wetherill State Park, Jamestown, RI
Closed to Climbing
The RI Department of Environmental Management does not allow climbing at this state park. The climbing community has a good relationship with the DEM in allowing climbing on all other state lands. So please do not climb here. RI DEM Park and Management Regulations, 17.9 Rock climbing is permitted at state parks, and management areas except at Fort Wetherill State Park.
Fox Den, Burrillvile, RI
Take Snake Hill Road off Rt 102 (Victory Highway) from the village of Glendale in Burrillvile. The cliff is located about 300 yards behind private residences on the eastern side of Snake Hill Road near the intersection of Barnes Road. I know of no way to get to the cliff without parking problems and trespassing across someone's land.
Goat Rock, Lincoln Woods State Park, Lincoln, RI
Known almost exclusively for bouldering Lincoln Woods has a bit of roped climbing at Goat Rock. From the entrance off of RT 123 take a right on the road to picnic area 9c.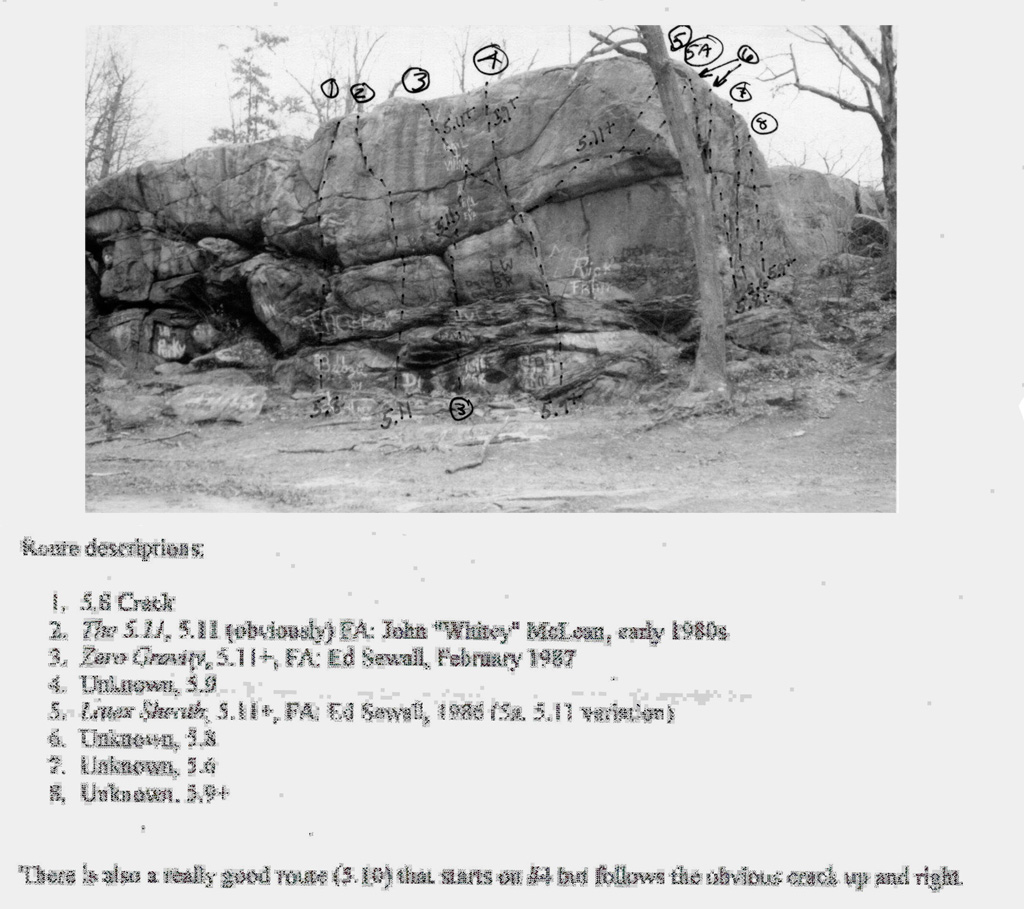 Mamacoke, Waterford, CT
This is a nature conservancy owned by Connecticut College. They don't specifically ban climbing on their signs there but they specifically ban jogging and mountain biking so climbing is probably not allowed either. There is chalk on some of the rocks evidence that the area is used by boulderers. If you climb there you want to be very discreet and stash ropes in your packs. To get there take Berham Avenue off of Route 32. There is a gravel parking area in a field before you get to the railroad tracks. Follow the trail on the map below. The main (bigger) cliff is the one on the right. The cliff on the left is on the second tier up above a smaller cliff. You have to bushwhack to get there. Most of the cliff is only around 20 feet high but there is one leadable route around 30 feet tall that is shown below..

Mapleville, RI
Cliffs can be seen from the Little League baseball field located off Casino Avenue in Mapleville village (Burrillville) in the winter. Take Casino Avenue into the ball field. The ball fields will be on your left. Park your car on the right hand side of the road behind the third field. Walk into the woods, parallel to the road walking away from CasinoAve. The river will be about 100 yds in. Head down river and cross the big old maple tree. Once you cross head up river 25 yds, look for old foot path, when in doubt proceed uphill. Your back will now be to the river. You will proceed on path and you will see blue pipes in the ground. Go Right. Proceed on path. Look for foot path on left. Land mark will be huge pine tree (trunk probably 4 feet round with deer stand in it). Take this trail. Proceed down trail into open field. Walk though field but stay towards your left. At end of field you will see footpath. Proceed down this foot path for 100 to 200 yds. At the elephant tree (pine tree with funky branch going horizontal) take a right. Proceed 100 feet and cross gully. After 20 more feet the trail splits. Look straight ahead for subtle path going up the hill. Take this path up hill and look for rock. I'm not sure whether there are access issues (i.e. you're trespassing). Photo below.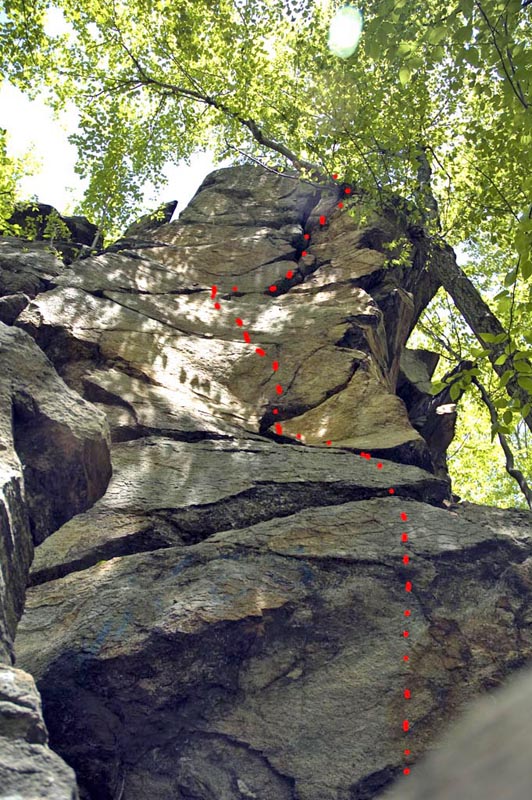 Newport Quarry (Ballard Park), Newport, RI
Closed to Climbing
In 2010 the Newport City Council banned rock climbing here. The quarry is on Hazard Road off Ruggles Avenue almost directly across from Rogers High School. A few hundred feet on your right is a steel gate and a sign for Ballard Park. Park here and follow the path to the quarry. Someone had installed some new 3/8" bolts and hangers above a couple of climbs but they were chopped. The routes here are at the center of the cliff where it is approximately 35 feet in height and slightly overhanging. The rock is quartzite with some loose rock and broken glass. The local test piece (5.10ish) follows the bolt line and traverses left under an overhang. Photo below.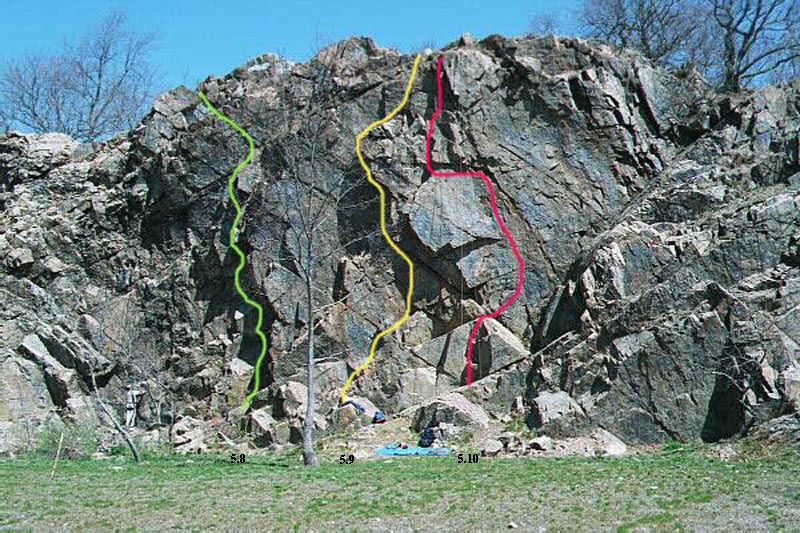 Pohegnut Ledge, Groton, CT
The cliff is a good hike in from RT 184 and not easy to find. It is a couple of hundred feet long and about fifty-feet high. It is located on Groton Resevoir land and is posted no tresspassing. The fence that separates the resevoir land and non-posted land runs right up to the cliff so that the bottom of the cliff is on posted property. The rock is dirty with quite a bit of lichen. If you could get access, and if you cleaned some routes with a wire brush this could be a good local crag. Map and photo below.

Rocky Point
This crag is in the Rocky Point State Park in Warwick, RI. Take Warwick Neck Avenue off of RT 117 to Rocky Point Avenue and look for a sign on the left to Rocky Point. Park in the lot and walk in. The cliff is in the woods to the left (north) just before you get to the big field. This area is used primarily by boulderers but with a cliff 25 feet tall it means don't fall, broken ankles, or roped climbing. Like most of the cliffs in RI it isn't a worthwhile destination for a full day of climbing but it is close by and is a fun diversion. The rock is granite and has mostly horizontal cracks. There are a couple of fun roof pulls. There are numerous trees close to the top of the cliff to set up top-ropes.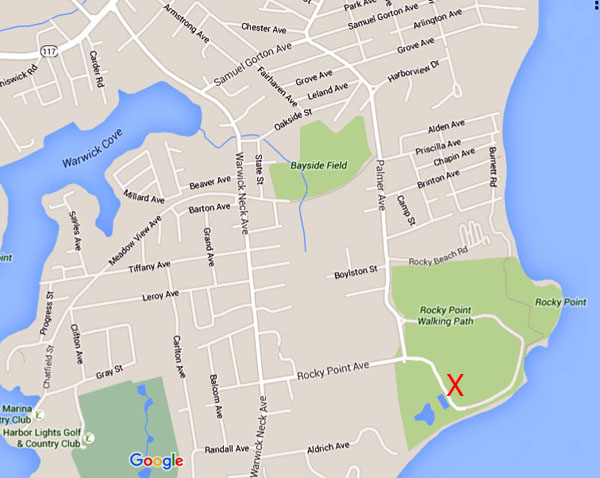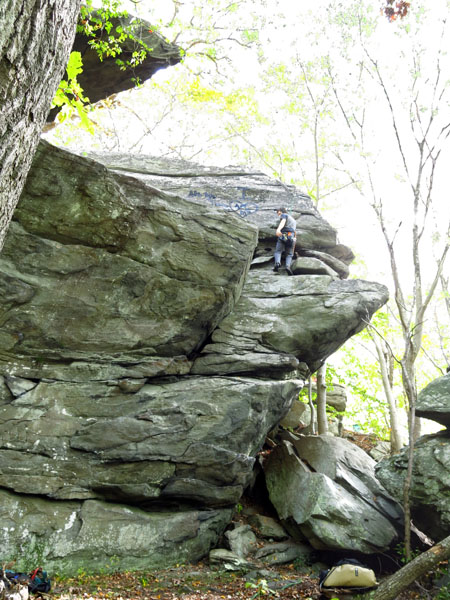 Tiverton
There is a fifty-foot cliff on private land in Tiverton that was reportedly bolted by local climbers from Roger Williams University. There were eight bolted routes but the bolts were reportedly chopped in 2002. You can see the cliff on the east side of Main Road in the winter. Last I knew it is posted with no trespassing signs and for that reason I do not include directions on how to get there. It is a slabby walk-up and hardly worth climbing let alone tresspassing. Photo below.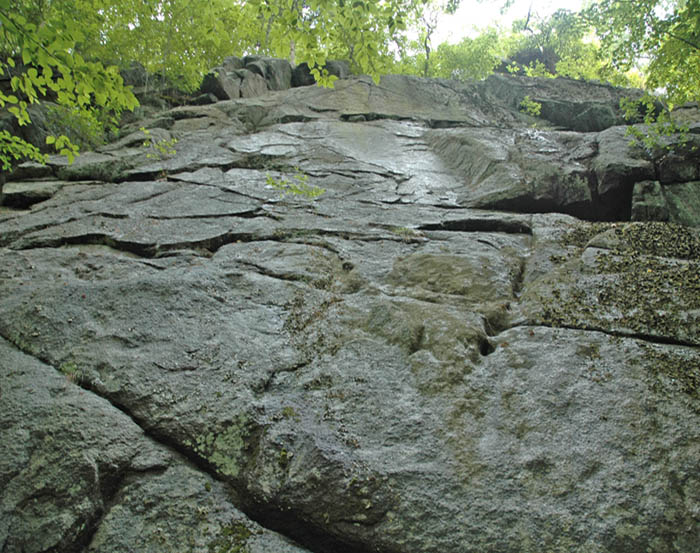 Westerly Quarry, Westerly, RI
This is an active quarry but if they would stop quarrying and if someone could get permission to climb there it would probably be the best climbing area in Rhode Island.

Wolf Hill Quarry, Smithfield, RI
This is an abandoned quarry. There are four walls ranging from 20 to 60 ft in height. This area is primarily used for ice climbing and has lots of loose rock. Not recommended for rock climbing. See Ice Climbing section for directions.